Managing change diagram shows the emotional stages

Managing change diagram below shows the emotional stages we all go through when faced with any change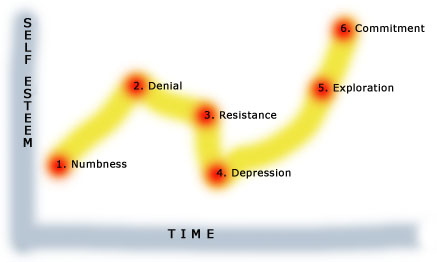 1.Numbness: Our initial experience after hearing new of changes is normally one of numbness or shock

2.Denial: Our next reaction is to deny the changes are going to happen " It´s not going to affect me"

3.Resistance: When we realize it isn't going to go away we may start to resist " I really don't want to deal with this"

4.Depression: In most cases resistance will have no effect and this is when we are likely to feel most down

5.Exploration: Having come to terms with the fact this is going to happen we normally then start to explore how it will affect us and how best to cope with the change

6.Commitment: Having explored and tested the options we finally commit to the new reality and move forward

Everyone needs to progress through all the stages I have described, whatever the degree of change being faced. What does vary is how quickly you go through each stage and whether, at any point, you slip back to a previous stage.


You can´t skip stages


Whatever the change you are facing you need to appreciate that you cannot skip stages. So when you are thinking about your reactions to your current situation,

you firstly need to IDENTIFY WHERE you are now before determining HOW BEST to move yourself forward to the next stage.


Some questions to consider
What are you feeling at the moment?
Where are you on the changes curve right now?

If you are stuck at particular stage, what needs to be resolved before you can move on again?



Have A Great Story About This Diagram?
He who knows nothing, loves nothing. He who can do nothing understands nothing. He who understands nothing is worthless. But he who understands also loves, notices sees...
Do you have a great story about this? Share it!
From Managing Change page to home page